Design Ideas for Solar Pathway Lights
The popularity of solar pathway lights among property owners is growing in the green life market and beyond. These lights are attractive for many reasons – they are off-grid, they support energy conservation efforts, add allure to the compound, and so on.
Whether you simply want to develop your ideas for garden decoration using solar lights or need the sidewalk more visible, there are emerging design ideas to consider.  
These lights are designed to generate power from a solar panel and store the same in a battery. The stored power is used to produce light at night. To achieve this, the set comprises the solar panel, control electronics, light fixture, and battery.
During the day, the solar panel captures sunlight and generates electrical energy. While this energy can produce light immediately, it can also be stored in the battery. Since the aim of most solar lights is to produce light at night, a light sensor is usually incorporated.
The pathway is one of the most popular areas to place solar outdoor lights. Outdoor lights, when well-chosen and installed, add curb appeal to the landscape and enhances security. Pathway lights can deter burglars and help people navigate their way in the space.  
Popular areas are along the walkway from the fence door to the back door, from a landscape feature to the main walkway, and surrounding a plant in the landscape to emphasize the contours. The lights don't have to be too close to the pathway; there are emerging ideas of illuminating the place, including accentuating the surrounding vegetation.
Now let us look at a few ways of illuminating the pathway using these lights.
Three Design Ideas for Solar Lights for the Pathway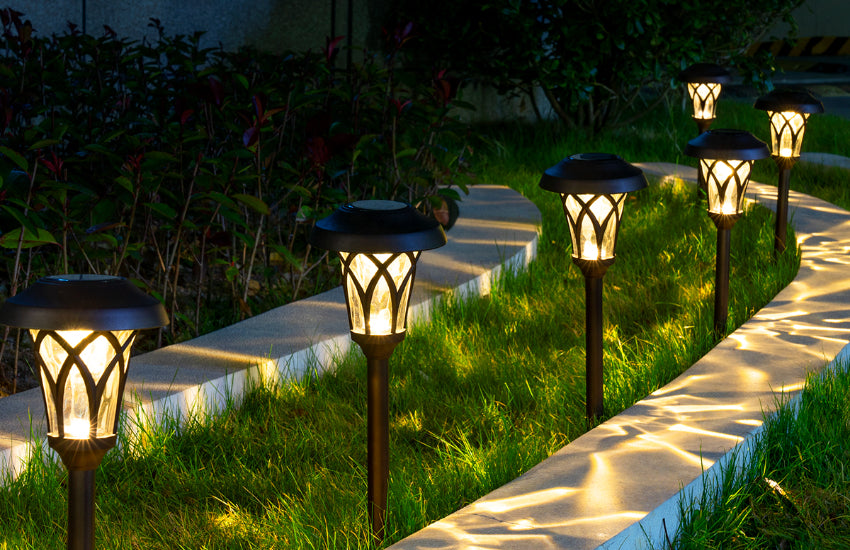 Now that you want to modernize your landscape with the latest solar pathway lighting ideas, we are glad to share a few ways homeowners are lighting up their outdoor spaces.
1. Solar Bollard Lights for a Touch of Modernity
Pathways and solar bollard lights make a wonderful combination. Being slender and easy to install, these lights suit any garden path, even in between plants. You can find stylish solar bollard lights and use them for any path in your front and backyard.
There is no general rule on how far apart the bollard lights should be, but most people prefer to have them at 2 meters. Don't hesitate to be creative in this area and see the kind of results you get.  
Install the best solar bollards and you can take advantage of smart technology for optimum efficiency. Controller technology enables the light to adjust based on the requirements.
You want to pick the right solar bollard lights so that you can get the desired illumination and allure. Here are some points you need to consider when buying these items:
(1) Line height– taller bollards are normally better because they illuminate larger sections
(2) Output/brightness– this output can be as high as 100 lumens and as low as 10 lumens so consider the amount of brightness you need
(3) The number of solar bollard lights– for these lights, multiples are always better, and that's why they are mostly sold in packs.
2. Transform the Canopy with Spotlights
Some paths have water fountains, shrubs, and such features on the sides. This is an excellent idea, but the allure tends to fade away with sunset. That's where the beauty of task lighting using solar spotlights comes in. By just placing the lights at different angles, you can achieve an ambiance like no other.
These types of solar lights are increasingly becoming excellent enhancers of vibrancy in the pathways and indeed, the entire landscape. Features along the garden path have varying textures and heights. When lights land on these features, the dimension and height of the pathway features become visible.
A solar spotlight focuses light about 10 meters and illuminates the features. It elicits visual appeal for anyone walking along the pathway. This idea can even be taken further by combining different solar spotlights at different angles to achieve even more visual appeal.
So why not insert a Gigalumi solar light behind one of the trees? Focus it on the leaves and enjoy the sight of beautiful shadows. You will light your pathway and create an ambient atmosphere.
3. Solar Lanterns
Outdoor solar lanterns are also creative ways to illuminate your outdoors. Transform every segment of your pathways with this simple solar pathway lights design.
Similar to the other solar lights, the solar lantern contains a solar module, a battery, and a lamp. Most people know of lanterns that are designed to sit on the ground or a raised platform, but solar hanging lanterns for outdoor applications are available too.
When buying a solar lantern for your pathway lighting, you may want to look at the design for that elegance aspect. Make sure that the lamp is LED-type for benefits such as environmental friendliness and safety. A product with several charging options and a convenient weight is also preferable.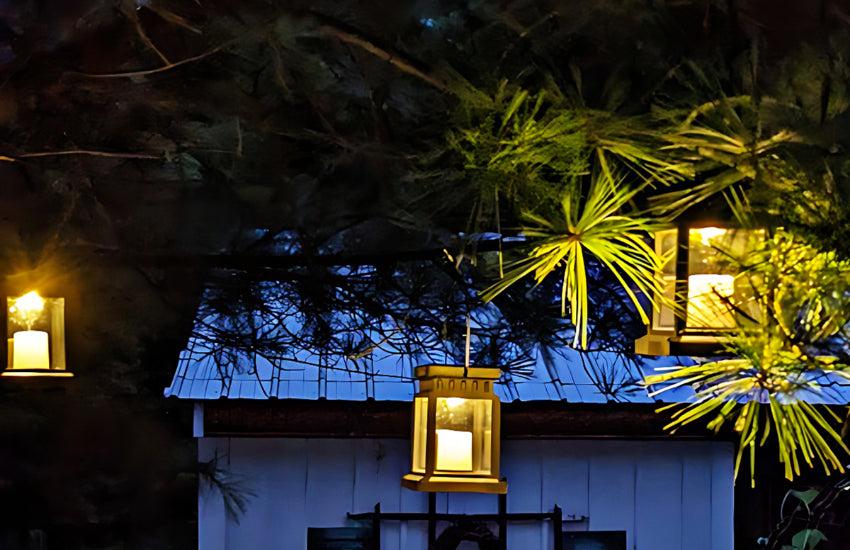 You may want to try out the Gigalumi Solar Hanging Lantern Outdoor for your pathways and enjoy the soft candle effect. This product is extremely versatile – it is applicable on the patio, garden, or lawn. You can illuminate your pathways using this stylish item all year round thanks to the waterproof design.
Considerations for Your Designs
As you incorporate these ideas, you may want to look at the following important product characteristics:
1. IP Rating– this element indicates how well the light can withstand elements such as dust and water.
2. Light temperature– this is indicated in Kelvins (K).
3. Construction– alongside the IP rating, it is advisable to ensure that special plastic or rust-resistant metal has been used for the device.
4. Run time – battery run time is the duration which the battery in the solar light will operate on a charge. Make sure the light is installed in a place with enough sunlight exposure to maximize this.
5. Battery Life – Be ready to replace the batteries after one year or so. In that regard, ensure that the solar pathway light has an easily replaceable battery.
6. Recharge duration –
for the solar pathway light to operate optimally, it needs exposure direct sunlight for at least 4 hours. During this time, the solar panel on the light should not be blocked by any shadows. When fully charged, the batteries can help light the pathway the entire night.
Go for the right solar path lights
That's it. There are many exciting designs among homeowners on how to make solar lights deliver and support clean energy goals.
Finding the best lighting products for your pathways can appear treacherous, but the exciting thing is that it doesn't have to be that way. The possibilities of solar pathway lighting are unlimited; you just need to find a product that suits your needs.
Are you set for a transformation of your landscape with the best lighting options in the market today? Do you still have questions about the latest in solar outdoor lights?
Let us know in the comments section.