5 Creative Ways To Use Solar Lights For Decorating Your Home
Solar lights are a great way to light up your home while staying carbon-neutral and environment-friendly. Solar energy is becoming more accessible and widely available nowadays. So you too can easily switch to solar lighting and reduce your electricity bills forever.
Solar lights are also great for their cost-effectiveness, minimal maintenance, unlimited energy source, and availability in a wide range of styles and designs. This makes them a preferred source of lighting by modern homeowners.
If you've been planning to light your home with solar lighting but don't know how to go about it, check out our guide on 5 creative lighting ideas that you can DIY.
1. Kettle-Shaped String Lights
If you have a bunch of solar string lights lying around unused, there are many great ways to incorporate them in your home improvement efforts. One creative way to use them is to shape them into a kettle, like in the image below. All you need is the lights, a pair of scissors, and glue.
You can then install this DIY project in the center of your living room, garden, or patio to create a statement look.
Decorating for a romantic occasion like Valentine's Day? Make a heart-shaped statement piece. It's an incredibly easy way to add color and romance to a cozy corner. Another terrific way to use string lights for decorating is by placing them in your stemware glass holder like this.
Say goodbye to dull, lifeless corners of your house with these remote-controlled solar string lights. We absolutely love them because of their flexibility and limitless creative opportunities. These copper wires are also waterproof. So place them anywhere—inside or outside your house or even decorate your pool—without worry!
2. Ground Lights For Outdoor Decoration
Solar ground lights are a stylish way to light the pathway of your patio or garden. Not only will you have adequate lighting outside, but the accent lighting will also add a breathtaking rustic charm to your home.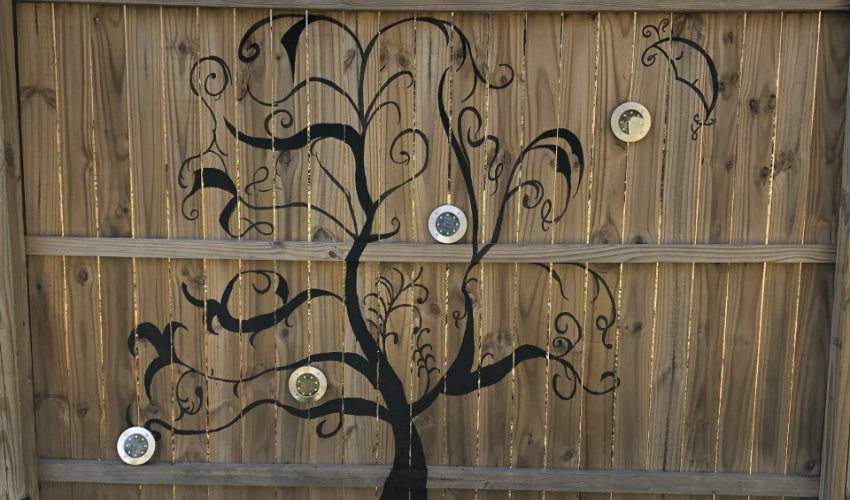 If you're looking for more creative ways to use ground lights, then look no further than your fence!
If you have an area of your fence or backyard that you'd like to highlight, like the tree painted on the fence in the picture below, then solar ground lights are your ideal medium to add a touch of quirky creativity to the area. Click here to see how gorgeous the fence looks when the lights switch on after dark! If you love this idea, try it at your next house party and enchant your guests with your creative skills.
These solar ground lights are not only super easy to install but also look ultra-modern and chic. So they can be used to add a touch of magical charm to your garden or patio and transform your space. Use them for any lighting project—whether for fences, trees, walls, or on the ground—and have fun!
3. Outdoor Lights As A Chandelier
Did you know that outdoor solar lights can be molded to your preference? Here's a fantastic way to convert pretty outdoor solar lights into a chandelier lights.
The best part? You'll never have to worry about replacing candles or switching off the lights. And you'll have a subtle, warm glow even when the power goes out!
You'd agree that the chandelier would liven up your living room or any other area of your house where you place it!
What we love most about this DIY solar light decorating idea is its rustic-yet-modern charm. And since the lights can bend into any shape, you can personalize the shape to match your preference and style.
4.Tree Lights
Why restrict your DIY lights only to your house and patio? Take your creativity to the trees!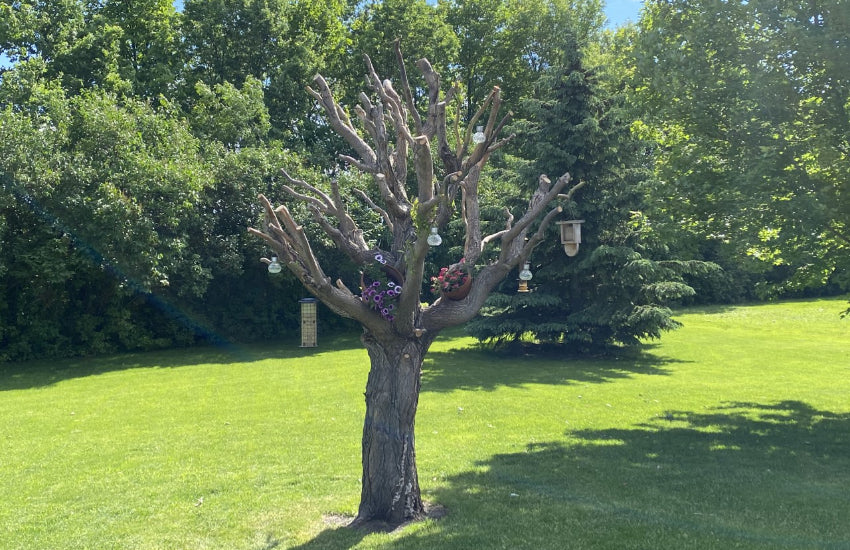 Yes, these stylish and beautiful outdoor solar lights were meant to be inserted in the ground, but you can also hang them from your favorite trees. Pairing tree lights with subtle string lights placed between plants in your garden will add a magical, bewitching element to your garden.
The unique diamond-cut surface design of the solar lights will create a spellbinding glow that will charm passers-by and your guests and also bring a smile to your face whenever you see your trees decked in these lights.
Since these solar lights are waterproof, weatherproof, and made of heavy-duty, durable stainless steel and glass, they'll prove to be a long-lasting and worthy investment. This means that you can also install them in your pool deck, shed, or other areas where you'd like to add some visual appeal without worrying about the weather deteriorating them.
5. Mailbox Decoration
If you own a pair of garden solar lights that you'd like to use in a fun and creative way instead of on your patio floor, use them to decorate your mailbox.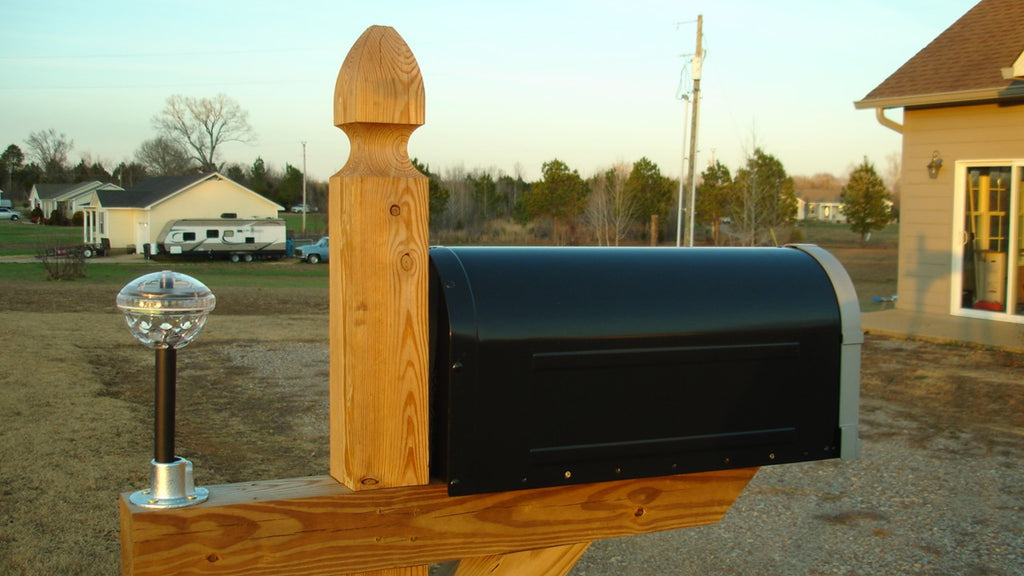 Mailboxes usually don't have lights installed near them, even though they are typically located away from the house entrance.
Install these durable, waterproof, and weatherproof "Mailbox lights". Crafted with powder-coated heavy-duty cast aluminum and stainless steel, they look incredibly sleek and modern! Esthetically pleasing and functional, the high-quality glass lens included reflects more light than a plastic lens.
The lights also help you read and sort through your mail quickly instead of having to go back inside your house before you can check your mail. You can also consider placing a trash bin under the mailbox so that you can toss away junk mail quickly and focus on other important mail that needs your attention.
Light Your Home And Life
Add an ethereal glow and charm to your home and life with solar lights and reap the benefits of low-cost, environment-friendly energy savings!
With some smart and creative planning, you can turn them into stylish and pretty centerpieces or lighting accessories that will make your home a beautiful place to live in.
Inspired by our decorating with lights ideas but don't have the right string or solar lights? No problem! We can help you "shop the look."
You'll find the largest collection of solar string lights, solar pathway lights, solar deck lights, and more here.
Do you have any other fun decorating ideas to use your solar lights? Tell us about them in the comments below! We would love to hear from you.