7 of the Best Outdoor Solar Lights for Backyards and Gardens
Whether it's entertaining friends and family in the backyard or wanting to illuminate your landscape and gardens, choosing the best solar lights can save you money and time in the long run. Though buying solar-powered lights have a higher upfront cost, there are no batteries, broken chords, and they last significantly longer than your traditional self-installed outdoor lights. With its simplicity and weather-resistant design, solar lights can be implanted just about anywhere. Your only limitation is your imagination when it comes to these lights. 
Regardless of your purpose for buying, we've made your search for exterior lighting easy by providing seven of the best outdoor solar light options to meet all of your outdoor needs. 
What makes these options the best outdoor solar lights?
There are thousands of solar light options out there, so what makes this list work for your buying needs? When determining superior outdoor lighting, buyers must look for three significant factors when making their decision: type, installation, and brightness. We've compiled a versatile list that covers all of these factors for the most common needs home owners have when illuminating yards.
1.Type
Understanding the overall purpose for your outdoor lighting will determine the type you purchase: motion-activated, dusk-to-dawn, and timer-controlled lights. 
If you're looking for some lights to brighten paths and walkways while catching criminals in the night, motion-activated is the solar-type for you. These lights only activate when motion is detected resulting in plenty of stored solar-powered energy for locations that don't receive as much sunlight as the sunny states. This style is often used for floodlights or for specific lighting needs, like outside your back door.
Dusk-to-dawn lights allow residents to sleep well at night, knowing their homes will be lit throughout the evening. This advanced form of lighting uses motion sensors to detect low sunlight as it slowly illuminates to full capacity and gradually deactivates as the sun rises. 
Dependent on your entertaining schedule and how often you like to spend in your yard, the outdoor timer-controlled solar light provides the flexibility and freedom of scheduling your light from the pleasure of an app on your phone.
2.Installation
Due to their cordless nature, outdoor solar lights are easy to install but can be difficult depending on if you buy screw-ins, adhesive mounts, etc. Understanding where you want your lights located on your property will determine the complete simplicity of installation.
3.Brightness
To determine how bright your outdoor solar light will be you should look at the lumens. The typical brightness scale is between 5 to 350 lumens. From romantic exterior lighting to blazing floodlights, it's important to determine the use case when selecting your lights' brightness. 
What are the best-rated outdoor solar lights?
© Brightech@amazon.
Price: $39.99
Advantage: Longevity and competitive price
Reviews: 90% gave it four stars or more 
Nothing sets the mood for those nostalgic summer nights like some solar-powered string lights. If you want the two-day shipping Amazon offers with the high-quality solar lumens, the hundreds of reviews state that customers love the product for the price.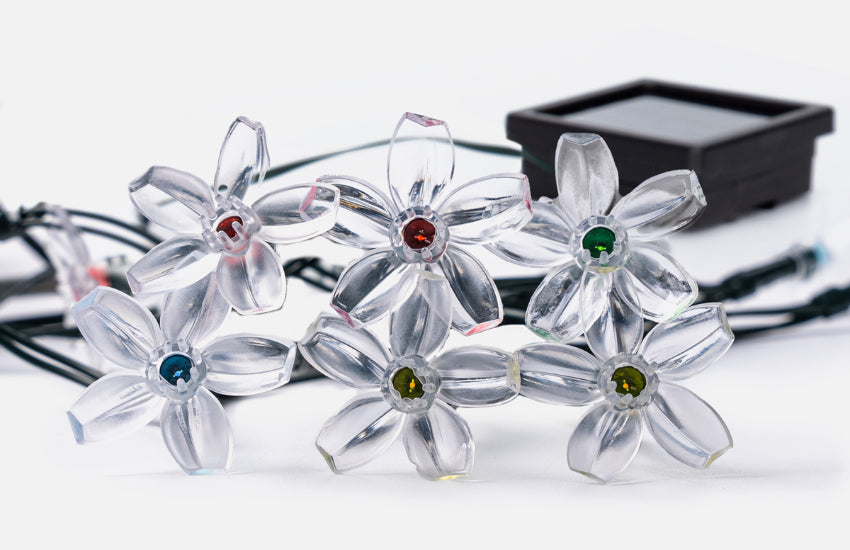 Price: $12.49 - $27.99
Advantage: Affordable price for simplicity and style
Reviews: Only 5-star reviews 
Enhance your solar landscape with some unique solar string lights. These easy-to-install, dusk-to-dawn solar lights last for hours and are incredibly eco-friendly. Customers find the solar products easy to install with light clips included. 

© Mainstays@Walmart
Price: $0.97
Advantage: An unbeatable price
Reviews: 3.8

"You get what you pay for" really reigns true with these solar powered path lights. These lower lumens solar lights are not meant to be a lavish purchase by any means but rather budget-friendly with their competitive price. These particular path lights are sold per unit and not in bulk. Its small but dainty size makes it perfect for garden lights and smaller yards.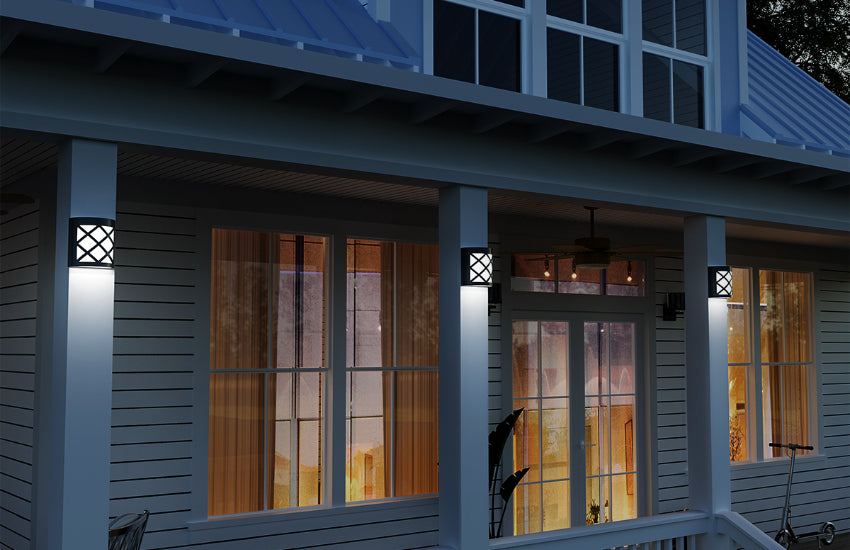 Price: $20.99 - $67.99
Advantage: Variety, durability, & quality
Reviews: Only 5 Star Reviews
Whether you want luxurious warm lights or concentrated white light, Gigalumi's solar pathway lights combine functionality with style. Created with energy-efficient technology, dozens of different options are available within your pricing needs: stainless steel, stained glass, lantern style, and more.
As mentioned previously, solar lights are a significant cost up front, but when spent correctly, they can leave you enjoying your yard for years to come. The variety and designs of these pathway lights affirm this and leave your neighbors wondering how they can "go solar." 

© LINK2HOME
Price: $22.44
Advantage: bright light for its sleek design
Reviews: 5 Star Reviews
Don't be deceived by the low voltage, as this floodlight kicks into bright light mode any time motion is detected within 16 feet of the system. Its smart features and 350 lumen bulbs provide the shocking illumination for its size. Mounting brackets provide easy installation and takedown if you accidentally put your lighting in the wrong place during your DIY projects. 
#6 LITOM 300 LED Solar Motion Sensor Lights Outdoor

© LITOM@Amazon
Price: $18.89 - $68.99
Advantage: Weather resistance and secure
Reviews: Over 800 5 Star Reviews
Not for looks but rather for its seamless design, this solar wall light will provide the flexibility and confidence you need to sleep well at night. After 6 - 8 hours of sunlight, the LED solar lights outdoor can shine throughout the night for up to 10-12 hours. Only raving reviews are found online due to the following benefits: 
300 LED Super Bright Solar Lights & 270° Wider Lighting Range
High-Efficiency Solar Panel
Diamond-Design Eye Protection Lampshade
IP67 Waterproof to Keep Long Lifespan
Three Intelligent Lighting Modes
Accurate PIR Motion Sensor Light
Easy to install
Price: $18.89 - $68.99
Advantage: Easy assembly and one-year replacement warranty
Reviews: 5 Star Reviews
With so many solar-powered variations, people can't help but wonder, which light is the first choice for large outdoor lighting? According to the public, outdoor wall lights are the most popular lighting choice, so why not buy eco-friendly? Gigalumi offers a variety of styles and energy-conserving solar paneled lights made from premium products. All their wall lights include the promise of easy installation, lower cost, long lifespan, and most important, reduced carbon footprint.
Bottom Line
If you want to bring the sunlight into your backyard evenings, you can't go wrong with the best outdoor solar lights we've found on the market. Brighten up your life and your yard with lights that make an impact on the environment. We've covered the basics on what to look for in your next purchase, including some reliable options, but it's up to you to make a difference in reducing your carbon footprint.