Innovative Solar Lighting Ideas for a Splendid Garden
Summer has finally arrived! The era of carelessness and relaxation. Before we leave for vacation, it is an opportunity to enjoy the summer evenings in the garden of our home with friends or relax with our partner. And is there anything better than enjoying the serenity and coolness in an atmospherically lit outdoor space? I think not. So make sure you light it properly!
But if you think that this project will cost you a fortune both as equipment and in terms of electricity consumption, I have the best solution for you. How about using outdoor solar lamps? Gigalumi state-of-the-art solar lamps and lights have LED lamps, are waterproof and are used for practical and aesthetic purposes as well. Through a huge rang of products it is certain that you will not find it difficult to come up with plenty creative ways to use solar lights. In simple words, you save money and the environment, and at the same time you decorate and illuminate your garden.
Before we saw you a few light decoration Ideas for home outdoor, let's find out how solar lights work and which their advantages are.
How solar lights work?
Solar lights use photovoltaic technology to absorb the sun's energy during the day and store it in a battery. When the night falls, this battery uses that energy to power an LED (light-emitting diode) bulb and generates light.
Advantages
The global demand for less carbon-intensive energy sources and the current energetic crisis have turned consumers' attention to alternative ways to illuminate their houses. Solar lighting is the typical example with a lot of advantages:
1. Innovative solar lighting is really useful in places where it isn't possible to connect to a central power grid, like camping, streets or big outdoor spaces.
2. Each lamp generates carbon-free electricity
3. Solar lights installation is easy and cheap
4. They require low maintenance
5. Modern garden lighting is very attractive
6. The outdoor solar lights are weatherproof and designed to withstand sunny days, rainy nights and small snowy days
Festive mood in your garden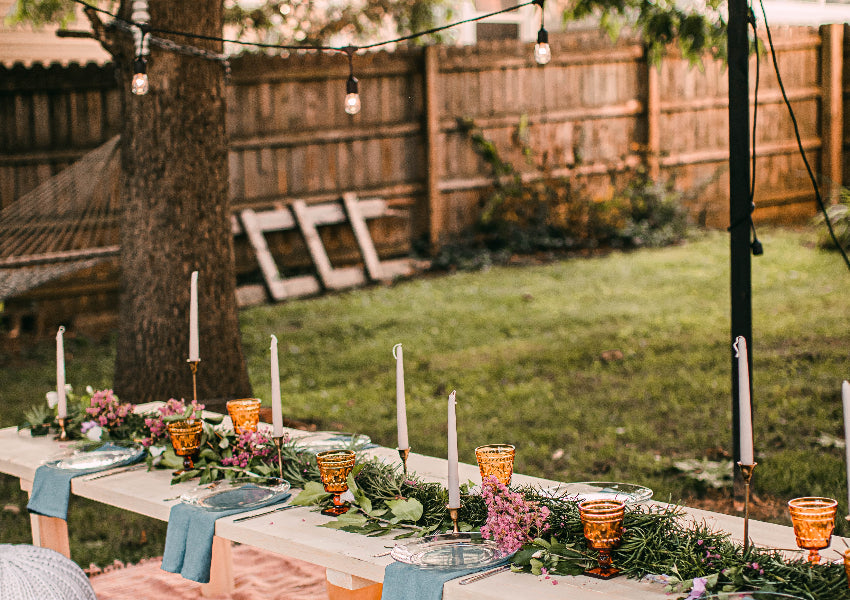 There is no need to have any special occasion to celebrate the small moments in life. Give your everyday life a special glow in an easy way! An innovative decoration with solar lights immediately creates the ideal atmosphere and the fun begins!
So let's take a look at some modern garden lighting ideas.
1. Use layering of light to create the best outdoor effects
You can come up with a lot of different light decoration Ideas for Home outdoor, just by using different types of decorative wall lights, uplights and downlights, linear and spotlights.  Gigalumi's huge collection of products add a charming and decorative glow to your planting and features at different levels around the garden.
2. Highlight your flowers
If you love gardening, solar lanterns and lamps will highlight your plants. You can place them around your flower bed or in the rock garden and foliage to create effects and shadows.  They enhance the natural beauty of your garden. And as your planting grow you can reposition them in your garden. Remember that lighting well-chosen positions draws attention and the aesthetic result is more discreet and effective. Their floodlight enables you to enjoy the beauty of your plants even at night.
3. Illuminate festively your outdoor areas
Garland solar lamps are ideal for festively decorating your garden. For this summer a creative way to use solar lights is to choose these high quality Gigalumi String Lights to illuminate your dining area by focusing on your garden table. Create atmosphere and ambience for dinner parties and outdoor gatherings, just by zig-zaging strings of lights above the table in different lengths and heights.
An easy idea of home improvement for beginners is to wrap tiny fairy lights around tree trunks. For an even more funky result, you can choose bright and fluo colors! They can also be used during the day in dark places that need more light.
Finally, add a few different and fanciful garden lights, like Gigalumi Solar Garden Lights mosaic LED and Garden Creatures lights nearby to create real magic, without having any ugly electrical cables in sight!
4. Highlight your stairs or the entrance to your yard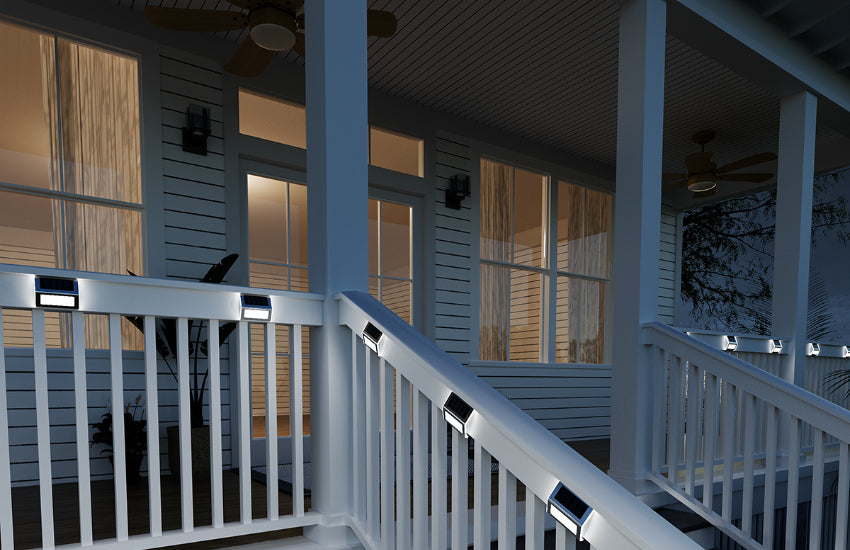 Ground lighting along a driveway, walkway, or steps improves safety and provides an attractive design element. If you find the entrance to your yard too dark at night and you are scared until you enter the house, a good and beautiful solution is to place in a row solar lamps that will be nailed to the ground or solar metal lanterns that you will touch along the corridor. Also, our solar step lights are very bright and suitable for courtyards and walkways. In Gigalumi selection we have modern and classic designs, crystal or plastic, white or colorful with patterns. In Gigalumi the choices are countless and will give a romantic and impressive note to the outdoors of your home!
5. Increase the light with a water trick
Lotus flower type solar garden lights can give a new lease of life to deserted garden ponds as well as water features and rockeries. Their unique carved flower petal and cracked glass globe design provide visual pleasure as garden décor. When they glow, their reflections in the water will duplicate, creating an eye-catching scenery.
Also hanging solar lights above a garden pond or your pool you will achieve the same result and get extra style points.
6. Make your own handicrafts with hidden lighting
If you love handicrafts, care for the environment and give attention to detail, here is a beautiful DIY home decor Idea: The next time you go to the beach or the forest, get a few sea wood or tree branches depending on what you intend to create. Paint them or leave them in their natural color. Then, place a solar lamp in the center and tie the branches or glue them together. To achieve the effect of diffusing light, remember to leave enough spots open at the top. Finally find an empty, dark corner in your garden and give it life. Every night that your creation will light up, you will feel proud of the result.
Conclusion
This summer, use innovative decoration to illuminate your favorite corner of your garden with solar lamps, garlands and handmade table lamps and experience a relaxing atmosphere in your home! We are here to help you bring your ideas to life…